Top 10 Homestays in Srinagar to Stay While Visiting There.
Kashmir is not a place to travel, it is an experience to be cherished. Beautiful mountains, fast flowing rivers, green meadows are complemented by human warmth, hospitality and great food. Where we stay often determines a large part of our travel experience and this hand-picked collection of hostels is sure to enhance the experience of visiting the beautiful, almost surreal Kasmir valley.
Below listed are the Top 10 Homestays in Srinagar to stay while visiting there.
1. The GreyStone, Homestays in Srinagar
This unique, comfortable homestay offers a view of the beautiful Dal Lake with sweeping views of Srinagar in the background. You will undoubtedly fall in love with this location because of the apple orchard aroma, bird chirping, and breathtaking Himalayan views. You'll want to eat more because the on-site owners personally look after the hospitality and prepare mouthwatering meals for their visitors with love and warmth.
The bedrooms are well furnished, with one on the first floor and the others on the ground floor. If you want to experience Kashmir in a unique way outside of the norm, this is the place for you. It is situated close to Dachigam National Park and on the outskirts of Srinagar.
| | |
| --- | --- |
| Location: | 5km from Dachigam National Park, Srinagar |
| Price: | Starting from Rs. 6500 per day |
| Website: | The GreyStone |
Read More: Lepchajagat Homestays for Comfortable Stays 2023
2. Dove Cottage, Homestays in Srinagar
The Dove Cottage in Rajbagh, the picturesque city of Srinagar's center, guarantees a peaceful stay with all the modern conveniences. The rooms are luxurious, with traditional wooden Khatambund ceilings and regional furniture. A delicious Kashmiri feast can be prepared for you in their on-site kitchen.
However, if you are eager to explore, it is a perfect base for tourists exploring Srinagar City as well as going on day trips to various hill resorts in the countryside. Sip Kashmiri Kahwa while lounging around their garden. ted with fruit trees and flowers, and you'd never want to leave.
| | |
| --- | --- |
| Location: | Dal Lake. The central shopping area, Srinagar |
| Price: | Rs. 2850 per day |
| Website: | Dove Cottage |
Read More: Visit Hahim Picnic Spot In 2023 Perfect Place For You
3. The Cottage Nigeen, Homestays in Srinagar
This cozy, two-story homestay close to Nigeen Lake might be the solution if you're searching for an authentic local experience while visiting Kashmir. It is a small business owned and operated by a Kashmiri couple and is tucked away on the outskirts of the city, surrounded by bushes, flowers, and an organic kitchen garden.
The rooms are decorated in a traditional manner with a covered balcony (dub) and Khatam band (wooden ceiling), so you will undoubtedly get to sample the delectable produce from the garden. On the second floor, they have four guest rooms available, each with a unique view.
Read More: Bombay Picnic Spot to have your weekends on
4. Farah's Homestay, Sonamarg Homestays in Srinagar
Farah Homestay offers traditional Kashmiri cuisine and an authentic Kashmiri experience with a French twist. It is beautifully situated on the banks of the Indus River.
Rashid and Odile, the owners, welcome their guests with warmth and hospitality while the rooms are decorated in a traditional style. In addition to owning a farm and dogs, the host family is surrounded by gardens. They also have a small library if you want to grab a book and enjoy the ethereal beauty of the hills.
| | |
| --- | --- |
| Location: | Bardparan, Gagangir, Srinagar. |
| Price: | Rs. 4500 per day |
| Website | Farah's Homestay |
Read More: Explore Daragaon Picnic Spot, Baksa 2023
5. Oswal Cottage, Pahalgam Homestays in Srinagar
A cabin in the woods, surrounded by trees, with gurgling water, singing birds, and stunning mountain views. This charming cottage is perfect for you if this is how you picture your vacation. The main market in Pahalgam is a short stroll away. At the cottage, breakfast is available, and a campfire is permitted. The hotel is a short stroll from Chandanwari, where the Amarnath Yatra begins.
| | |
| --- | --- |
| Location: | Pahalgam, Srinagar |
| Price: | Rs. 2500 per day |
| Website | Oswal Cottage |
Read More: Best Camping Spots in December in India 2023
6. Tulip Cottage, Pahalgam Homestays in Srinagar
This bungalow is situated in a lovely area with views of the mountains and the Lidder River flowing nearby. To enjoy your time with nature, sip hot tea while eating pakoras. They have one family room with all the essential amenities, as well as four deluxe rooms. Every effort is made by the staff to make you feel at home.
| | |
| --- | --- |
| Location: | Pahalgam, 2.5 hours from Srinagar |
| Price: | Rs. 6000per day |
| Website: | Tulip Cottage |
Read More: Homestay in Chikmagalur you Must Visit 2023
7. Naivasha, Homestays in Srinagar
In this lovely one-room studio, awaken to the sound of birds and captivating views of the orchard. It is close to the host Fozia, an artist, and her husband Siddiq, a historian, who are available by phone if you need assistance or just want to chat.
It is located near the well-known Dal Lake and is named after a lake in Kenya. It offers peaceful nature walks, bird watching, tours around Dal Lake, Hazratbal, and Naseem Bagh, and is close to the famous Dal Lake. It features a cozy space for a single traveler or a couple, a private bathroom, and a fully functional kitchen in case you want to make a meal. To sample local bread, a traditional Kashmiri bakery is close by.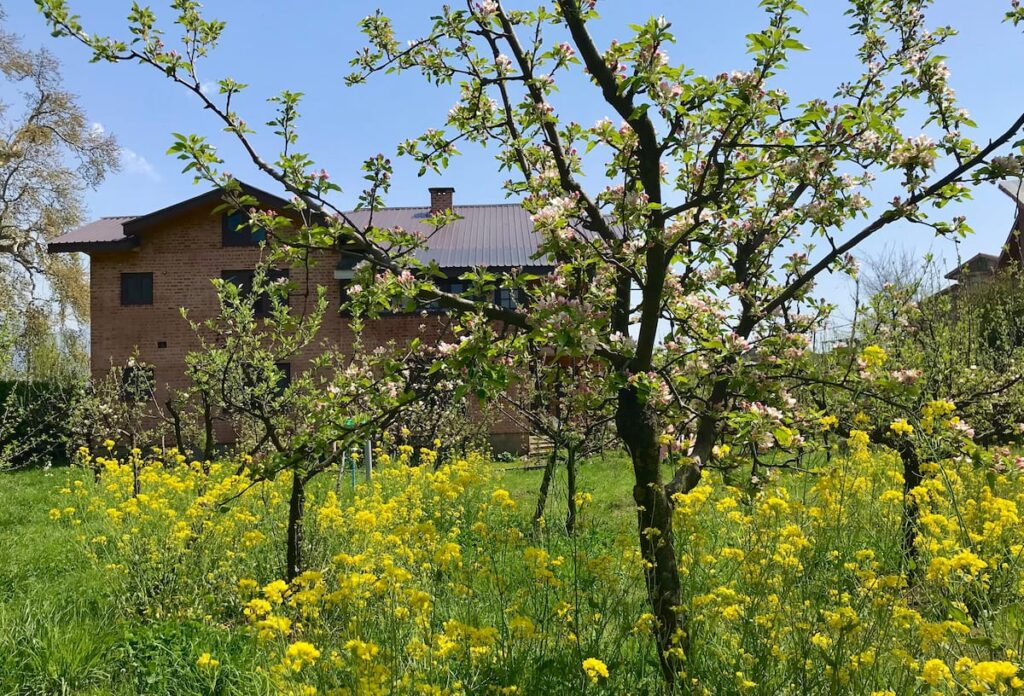 | | |
| --- | --- |
| Location: | Dal Lake, Naseem Bagh |
| Price: | Rs. 3950 per day |
| Website: | Naivasha |
Read More: Best places to visit in December for couples 2022-2023
8. The Manor Nishat, Homestays in Srinagar
In the foothills of the Zabarvan Ranges, tucked away from the bustle of the main town, is this 4-bedroom Victorian home. Beautiful lawns, a chic living room with an HD TV, a dining room, secure parking, and a modular kitchen with all necessary amenities are all available upon request. It is close to places of interest like Dal Lake and Nishat Garden. Upon advance request, shipping arrangements can be made.
| | |
| --- | --- |
| Location: | Srinagar, Near Nishat Garden and Dal Lake |
| Price: | Rs. 2000 per night |
| Website | The Manor Nishat |
Read More: Reasons Why You Need a Private Guide in Israel 2023
9. Shangraff Mountain Home Homestays in Srinagar
This lovely mountain house, which is perched above the Mughal Gardens and Dal Lake in the Zabarwan Mountains' foothills, is surrounded by orchards. A Kashmiri physician who was visiting Srinagar lived there.
With all modern conveniences, the entire interior is decorated in a traditional Kashmiri style. Dal Lake is only a 10-minute drive away, so explore Srinagar while taking in the magnificent views at sunrise and sunset or spend the evenings conversing by the central fire.
| | |
| --- | --- |
| Location: | In Between Dal Lake and Mughal Gardens |
| Price: | Starting from Rs. 12500 per day |
| Website | Shangraff Mountain |
Read More: Must Visit Homestay in Ghandruk Nepal 2022-2023
10. Karan Mahal, Homestays in Srinagar
With breathtaking 360-degree mountain views, this European-style villa looks out over the vast private orchards that lead to the well-known Dal Lake. A heritage inn with seven opulent rooms has been created from the 19th-century castle that served as the Maharaja of Kashmir's private residence.
They also serve homemade breakfast and dinner along with traditional Kashmiri dishes. The Karan Mahal's interiors are decorated with historical elements, including hand-woven vintage Kashmiri rugs, hand-crafted wooden ceilings, crystal chandeliers, and art deco furniture.
| | |
| --- | --- |
| Location: | Near Dal Lake, Srinagar |
| Price: | Rs. 32000 per night |
| Website: | Karan Mahal |
Website Stories: Visit Hahim Picnic Spot In 2023 Perfect Place For You