Kanyakumari Tourist Places Journey Through Southern India's Coastal Gem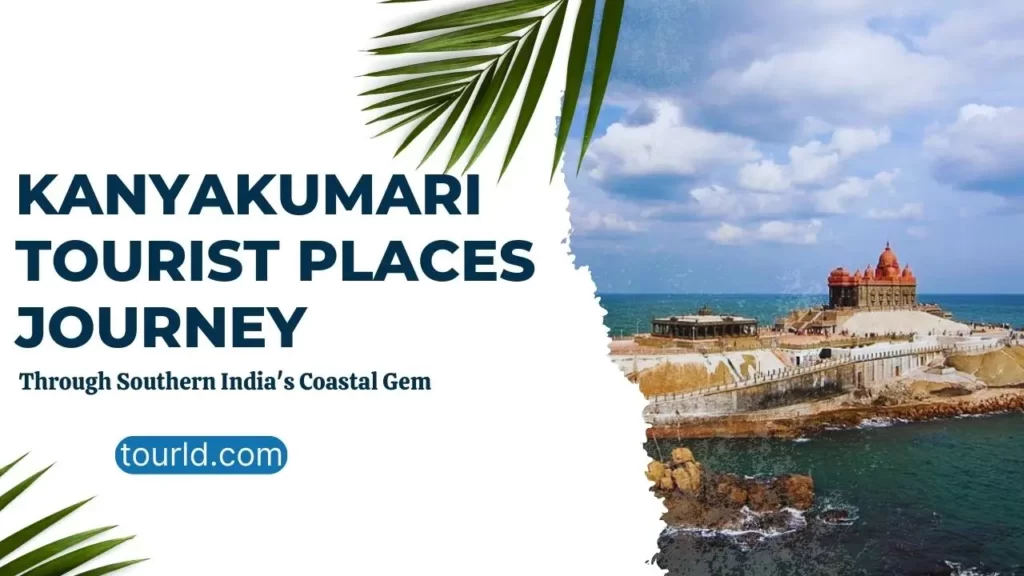 Kanyakumari Tourist Places also known as Cape Comorin, is a captivating coastal town nestled at the southernmost tip of the Indian subcontinent. Renowned for its stunning natural beauty and cultural heritage, Kanyakumari attracts travellers from all around the world. With a plethora of tourist places to explore, this charming destination offers a diverse range of experiences. Let's embark on a virtual journey and discover the top 10 Kanyakumari tourist places that will leave you spellbound.
Kanyakumari Beach Kanyakumari Best Tourist Place
As one of the most iconic Kanyakumari tourist places, Kanyakumari Beach is a must-visit destination for every traveler. This pristine stretch of golden sand is surrounded by the vast expanse of the Arabian Sea, Bay of Bengal, and the Indian Ocean, offering a unique experience of witnessing the confluence of three mighty water bodies. The breathtaking view of the sunrise and sunset from the beach is truly unforgettable.
Vivekananda Rock Memorial Kanyakumari Best Tourist Place
Perched on a rocky island, the Vivekananda Rock Memorial Kanyakumari Tourist Places stands as a symbol of spiritual enlightenment. Dedicated to Swami Vivekananda, a revered Indian philosopher, this memorial is a significant pilgrimage site. Visitors can reach the memorial by ferry and explore the meditation hall and Vivekananda Mandapam, where Swami Vivekananda meditated. The panoramic views of the sea from the memorial are awe-inspiring.
Thiruvalluvar Statue Kanyakumari Best Tourist Place
Adjacent to the Vivekananda Rock Memorial, the Thiruvalluvar Statue Kanyakumari Tourist Places Statue is an imposing structure honoring the renowned Tamil poet and philosopher, Thiruvalluvar. Rising 133 feet tall, this statue represents the 133 chapters of his celebrated work, Thirukkural. The statue stands atop a rock pedestal, and visitors can climb up to its feet to relish the panoramic views of the coastline.
Kanyakumari Temple Kanyakumari Best Tourist Place
Another prominent attraction among the Kanyakumari tourist places is the Kanyakumari Temple, dedicated to the goddess Devi Kanya Kumari. This ancient temple holds immense religious significance and attracts devotees from far and wide. The architecture of the temple showcases the rich cultural heritage of South India, and the vibrant festivals celebrated here are a sight to behold.
Padmanabhapuram Palace Kanyakumari Best Tourist Place
Located about 20 kilometres from Kanyakumari, Padmanabhapuram Palace Kanyakumari Tourist Places is a magnificent wooden palace that served as the seat of the erstwhile rulers of Travancore. Built-in the traditional Kerala style of architecture, the palace boasts intricate carvings, antique furniture, and mural paintings. Exploring the palace complex, including the Durbar Hall and the royal bedrooms, provides a glimpse into the regal history of the region.
Suchindram Temple Kanyakumari Best Tourist Place
Situated approximately 15 kilometres from Kanyakumari, Suchindram Temple Kanyakumari Tourist Places is an ancient Hindu temple dedicated to Lord Shiva, Lord Vishnu, and Lord Brahma. The unique feature of this temple is its remarkable musical pillars that emit different sounds when struck. The awe-inspiring architecture and the vibrant atmosphere during festivals make it a must-visit destination for spiritual seekers.
Thirparappu Waterfalls Kanyakumari Best Tourist Place
Amidst the lush greenery and tranquil surroundings, Thirparappu Waterfalls Kanyakumari Tourist Places is a hidden gem located around 55 kilometres from Kanyakumari. The cascading waterfalls create a mesmerizing spectacle, and visitors can take a refreshing dip in the natural pool at the base. The nearby park offers a serene picnic spot, perfect for unwinding amidst nature's splendour.
Mathur Hanging Bridge Kanyakumari Best Tourist Place
Crossing the River Pahrali, the Mathur Hanging Bridge Kanyakumari Tourist Places is a marvel of engineering and offers an adventurous experience. This suspension bridge connects two villages and provides a stunning view of the surrounding landscape. Walking along the bridge while feeling the gentle sway adds an element of thrill to the visit.
Read More: Explore The Top 10 Private Cabin Cafe in Aurangabad
Udayagiri Fort Kanyakumari Best Tourist Place
Standing tall as a testament to the region's historical significance, Udayagiri Fort Kanyakumari Tourist Places is a captivating structure dating back to the 17th century. Built by King Marthanda Varma, this fort offers panoramic views of the Western Ghats and the lush green plains below. Exploring the fort's ruins and imagining its glorious past is a fascinating experience.
Gandhi Mandapam Kanyakumari Best Tourist Place
As a tribute to the Father of the Nation, Mahatma Gandhi, the Gandhi Mandapam Kanyakumari Tourist Places is a memorial located at Kanyakumari. Built at the spot where his ashes were kept before immersion, this beautiful structure showcases various exhibits depicting the life and teachings of Mahatma Gandhi. The peaceful ambience and the panoramic view of the sea make it a serene spot for introspection.
Read More: Gandaki Golden Bridge Majestic Marvel Connecting Beauty and Engineering
Best Time to Visit Kanyakumari Tourist Places
The best time to visit Kanyakumari and explore its mesmerizing tourist places is between the months of October and March. During this period, the weather in Kanyakumari is relatively pleasant and ideal for sightseeing and outdoor activities. Here's a breakdown of the seasons and weather conditions to help you plan your visit:
Time to Visit Kanyakumari in Winter (October to February):
Winter is considered the peak tourist season in Kanyakumari. The weather during this time is pleasantly cool with temperatures ranging from 20°C to 32°C (68°F to 90°F). The sea remains calm, making it perfect for boat rides and water activities. It is also the best time to witness the stunning sunrise and sunset views from the beaches. However, it's advisable to carry light woollens as evenings can be slightly chilly.
Time to Visit Kanyakumari in Spring (March and April):
Spring marks the transition from winter to summer in Kanyakumari. The weather remains moderate, with temperatures ranging from 25°C to 35°C (77°F to 95°F). It is still a favourable time to visit, but the heat starts to gradually increase towards the end of April. It is advisable to carry sunscreen and stay hydrated during outdoor activities.
Time to Visit Kanyakumari in Summer (May to June):
Summers in Kanyakumari can be quite hot and humid, with temperatures soaring up to 40°C (104°F) during the daytime. The tourist influx decreases during this period due to the scorching heat. However, if you can tolerate the heat, you may find fewer crowds and better deals on accommodation. It is crucial to carry sunscreen, hats, and light clothing to protect yourself from the sun's intensity.
Time to Visit Kanyakumari in Monsoon (July to September):
Kanyakumari experiences moderate to heavy rainfall during the monsoon season. While the rain may add a touch of romance to the coastal landscapes, it can also hinder outdoor activities and sightseeing. The sea can be rough, and water-based activities may be temporarily suspended. It's advisable to check weather forecasts and plan your visit accordingly. However, if you enjoy the monsoon ambience and want to experience a different side of Kanyakumari, this can be a good time to visit.
Read More: List of Top Romantic Private Cafe for Couples in Delhi 2023
Conclusion
Kanyakumari tourist places offer an enchanting blend of natural beauty, cultural heritage, and spiritual experiences. From pristine beaches to historic monuments, this coastal town has something to offer every traveller. Whether you seek tranquillity, adventure, or a spiritual retreat, Kanyakumari will leave you mesmerized with its unique charm. So, plan your visit to this southern Indian gem and immerse yourself in the breathtaking beauty of Kanyakumari.
Kanyakumari Tourist Places FAQs
What are the top tourist places to visit in Kanyakumari?
Kanyakumari offers a range of top tourist places to visit. Some of the must-visit attractions include Kanyakumari Beach, Vivekananda Rock Memorial, Thiruvalluvar Statue, Kanyakumari Temple, Padmanabhapuram Palace, Suchindram Temple, Thirparappu Waterfalls, Mathur Hanging Bridge, Udayagiri Fort, and Gandhi Mandapam.
What is the best time to visit Kanyakumari?
The best time to visit Kanyakumari is during the winter months, from October to March. The weather is pleasant and ideal for exploring the tourist places. Avoid visiting during the monsoon season (June to September) as heavy rainfall may hinder outdoor activities.
How can I reach Kanyakumari?
Kanyakumari is well-connected by air, rail, and road. The nearest airport is Trivandrum International Airport, located about 90 kilometers away. Kanyakumari also has its own railway station with regular trains from major cities. Buses and taxis are available for convenient road travel to Kanyakumari.
Is Kanyakumari Beach suitable for swimming?
While Kanyakumari Beach offers a picturesque setting, swimming is not recommended due to strong currents and rocky shores. It is advisable to enjoy the beach from the shore and be cautious of the sea's conditions.
Are there any entry fees for visiting the tourist places in Kanyakumari?
Some of the tourist places in Kanyakumari may have entry fees. The charges vary for each attraction. For example, there is an entry fee for Vivekananda Rock Memorial, Thiruvalluvar Statue, and Padmanabhapuram Palace. It is advisable to check the entry fees beforehand.
Can I visit Vivekananda Rock Memorial and Thiruvalluvar Statue together?
Vivekananda Rock Memorial and Thiruvalluvar Statue are located close to each other and can be visited together. A ferry service operates between the mainland and the memorial, allowing visitors to explore both attractions.
Are there any nearby attractions to explore from Kanyakumari?
There are several nearby attractions that can be explored from Kanyakumari. Some popular options include the Padmanabhaswamy Temple in Trivandrum, the hill station of Ponmudi, the picturesque town of Kovalam, and the scenic backwaters of Poovar.
Read More: Discover the Perfect Private Cafe for Couples in Patna