List of Top 10 Places to Visit in Gujarat 2022
Winter heralds the peak season for year-round travel. With the festive season being celebrated around the world in full swing, foreign tourists are flocking to India with family and friends to discover and experience the diversity of heritage, culture and nature. India's rich nature.
One of the favorite tourist destinations for winter travel in India is Gujarat. With Runn Utsav's extreme and beautiful weather conditions making it the perfect time to explore its cultural and archaeological riches, we bring you the best places to visit in Gujarat to make the most of your winter vacation in India.
You may go to Gujarat for a number of reasons. From fields of indigenous dinosaur fossils, Gir with its only Asian lion home outside of Africa to the art of Neolithic cave paintings to the stone masonry of succession civilized architecture both modern and ancient.
And from the marvels of Jain architecture, the Hindu temples of Somnath and Dwarka sprang up from the Arabian Sea to the seasonal island of Kutch, spilling into the hard white salt desert in the summer and where the craftsmen Local artisans weave the finest Indian fabrics and battle the hospitality factor of Little Rann, Gujarat has it all.
.
With countless options available for a Gujarat vacation, we bring you a list of the top 10 places to visit in Gujarat.
Junagad
Ahmadabad
Vadodara/Baroda
Champaner-Pavagarh Archaeological Park
Sasan Gir National Park
Dwarkadhish Temple
Rani ka Vav, Patan
Bhuj
Somnath
Rann of Kutch
.
1. Junagad : places to visit in Gujarat
Dotted with mosques, Hindu and Buddhist temples and other historic structures, Junagad was ruled by the Babi Nawabs until India's independence.
Interestingly, the Nawab of Junagad wanted to stand with Pakistan after the partition, but since the majority of the population was Hindu, the Nawab had to leave his principality and flee to Pakistan.
Junagad goes largely unnoticed by tourists and is primarily a base for visiting Gir National Park. But the city is home to great historical sites. Mahabat ka Maqbara is an example of exquisite architecture.
You can also find the Ashokan Rock Eddict here. Several Jain temples are also located near the city, built on top of Mount Girnar, accessible by stairs.
Read More : 10 Best Places to Visit in Rajasthan 2022
.
2. Ahmadabad : places to visit in Gujarat
Ahmedabad, the fifth largest city in India, is the commercial hub of Gujarat and also one of the best places to stay in Gujarat. The city is famous for its long-standing culture, exquisite architecture, and large population.
Ahmedabad was founded by King Karnadev in the 11th century and was named after him as Karnawati until Sultan Ahmed Shah invaded the kingdom in 1411 and renamed the city after himself.
Tourist attractions in Ahmedabad include Bhadra Fort, well-furnished historic buildings, mosque and lake. The Ashram of Mahatma Gandi, known as the Sabarmati Ashram, is one of the main attractions in the city along with the nearby modern wonder, the Akshardham Temple in Gandhinagar.
Bhadra Fort, Jhoolta (earthquake) Minarets and Teen Darwaza are the historical wonders of the city. Natural beauties include Kankaria emerald lake and Vastrapur lake.
For a cultural immersion, visit Ahmedabad during the great festivals celebrated in the city. Uttarayan (Makar Sakranti) and Navratri are the two most famous festivals here that are held with great enthusiasm and enthusiasm.
The International Kite Festival is held here with great enthusiasm and kite lovers from all over the world gather and show off their kite flying skills.
Another specialty of Ahmedabad is sumptuous cuisine. The city is famous for its ice cream thanks to the White Revolution and the abundance of dairy products in the state.
The local people's taste for sweets is also well known. Gujarati specialties include Dhokla, Khandvi, Srikhand, Haandvo and Bhajiya among others. For food lovers, Khau Galli in the Law Garden area and Khan Pan Bazaar in Manekchawk are the places to get a taste of authentic Gujarati cuisine.
Stay at the Ginger or Lemon Tree hotel for a luxurious stay. There are plenty of hotels to suit everyone's budget in Ahmedabad. Off the Beaten Track Adalaj ka Vav Tour Adalaj ka Vav a conveniently located 5-story stop just 18km from the city center is a place you cannot miss even if you are not a connoisseur architecture.
Adalaj Vav was built in 1499 by Sultan Mehmud Begda for Queen Rani Roopba, widow of Veer Singh, chieftain of Vaghela.
Read More : Top 15 Places to Visit in Orissa in 2022
.
3. Vadodara/Baroda : places to visit in Gujarat
Vododara, designated as the cultural capital of the state, is one of the most visited tourist attractions in Gujarat. After the declining Marathas were expelled by the Gaekwadian Marathas, local Maratha generals established Vadodara as their capital.
The city offers a harmonious combination of past and present. The city flourished and modernized under Maharaja Sayajirao II and enjoyed great autonomy even during British rule in India.
For things to do in Vadodara you can visit Kadia Dungar Cave, Lakshmi Vilas Palace, Nazarbaugh Palace, Makarpura Palace, Sursagar Talav and the amazing Sayaji Baug.
Sayaji Baug was built by Maharaja Sayajirao III in 1879 and named after him. Sayaji Baug, also known as Kamati Baug, consists of 45 hectares of gardens, a flower clock, two museums, a planetarium, a zoo and a small train.
More Detials: Top 20 most beautiful places for holidays in east India
.
4. Champaner-Pavagarh Archaeological Park : Places to visit in Gujarat
Located 50 km east of Baroda is the Archaeological Park of Champaner Pavagarh. This ancient site with religious buildings and 8th-century ruins was listed as a UNESCO World Heritage Site in 2004.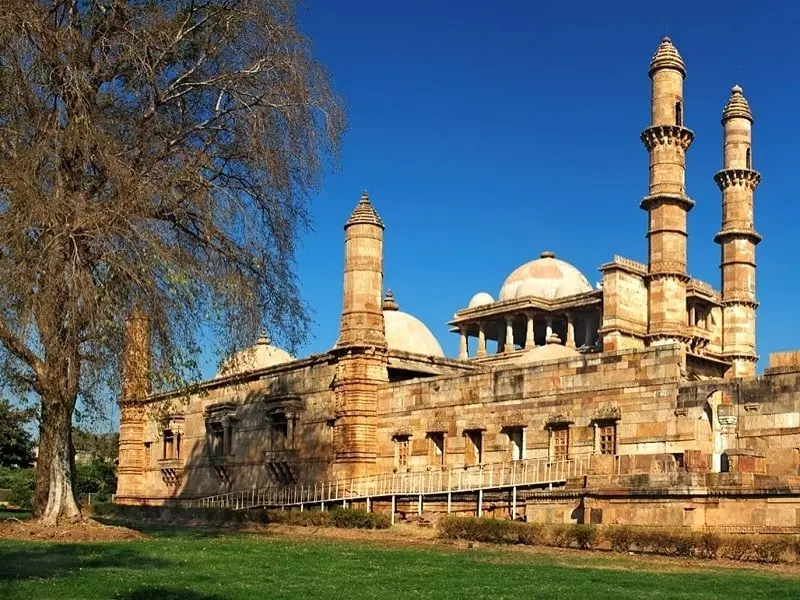 It is a must-visit for lovers of history and people interested in culture and architecture. Complete with military, religious and agricultural structures, the site was built and expanded over a 600-year period.
Abandoned shortly after briefly becoming the capital of Gujarat under the independent Sultan Mehmud Begda, it is the only surviving pre-Mughal site unchanged.
Jama Masjid built here during the reign of Begda is an excellent example of Indo-Islamic fusion architecture and later served as a model for the construction of other Friday mosques on throughout India.
The ruins of this archaeological site also include residential buildings, military compounds, palaces, agricultural buildings, and water holding facilities.
The Kalika Mata Temple atop Pavagarh Hill attracts a large number of devotees an important Hindu temple known as the Kalika Mata Temple is also located atop Pavagarh Hill and attracts a large number of devotees year-round.
Read More : Top 10 Best Places to Visit Kolkata
.
5. Sasan Gir National Park : Places to visit in Gujarat
The only place in Asia where you can spot the king of the jungle prowling in the wild, Sasan Gir National Park is located in Junagad district and is one of the most visited tourist attractions in the country. India The main attraction is the Asian lions, but there's so much more to this sanctuary.
The park is home to hyenas, leopards, swamp crocodiles, antelopes, sambars and a large number of bird species, making it an ideal candidate for one of the wildlife sanctuaries best wilds in India.
Although people come here for the lions, birdwatchers head to Gir for one of the best bird-watching experiences in India.
The best time to visit Gir National Park is from November to March, but for the best chance to see lions, visit the park during the warmer months of April and May.
Read More : Top 10 Tourist Places to visit in Arunachal Pradesh
.
6. Dwarkadhish Temple : Places to visit in Gujarat
Located by the Gomti stream, Dwarkadhish temple is one of the most beautiful temples in India believed to have been built by Lord Krishna's grandson himself.
Appearing as if emerging from the waters of the Arabian Sea, the temple is famous for its beautifully carved architecture. It is considered the holiest Hindu temple and is part of Char Dham Yatra, the holiest of all Hindu pilgrimages.
According to legend, Lord Krishna settled in Dwarka with his Yadava clan. After his death as Krishna's avatar, the entire island of Dwarka was submerged in water.
Recent archaeological excavations have supported these theories that present-day Dwarka was one of only six ancient cities that once existed here.
Read More : Best Places to Visit in Tripura
.
7. Rani ka Vav, Patan : Places to visit in Gujarat
One of the few monuments built by a queen for her beloved king, Rani Ka Vav is a spectacular well in very good condition. It was commissioned by Rani Udayamati in memory of her deceased husband, King Bhimdev I, in 1063.
Shortly after its completion, the stepwell was flooded with water and silt from the neighboring Saraswati River. It was only in the 1980s that the Archaeological Survey of India (ASI) unearthed this Vav and carried out excavations.
The structure was discovered as a majestic specimen of carved carvings, niches and pavilions separated with pillars. Rani ka Vav is one of the largest, most beautiful and most unique terraced wells and is currently on the tentative list of UNESCO World Heritage Sites.
This underground shaft descends through terraced corridors marked by tiled pavilions. The central motif of the intricate sculptures is the Dasavataras, or 10 incarnations of the Hindu god Vishnu. The avatars are accompanied by sadhus, brahmins and apsaras.
Apsaras' sculptures paint lips and makeup in different styles representing "solah shringar" or 16 ways of applying makeup to become more attractive.
Intricately carved pavilions are a unique feature of Rani ka Vav that sets it apart from other baolis (Indian villas)
If you are looking If you're looking for cultural immersion in Patan, don't miss the chance to visit Patola's sari workshop. The kind people who work here take great care in explaining the ancient weaving process.
Read More : Top 20 most beautiful places for holidays in east India
.
8. Bhuj : Places to visit in Gujarat
Perhaps the phrase "deep in history" was coined to refer to Bhuj precisely. With connections to a wide range of civilizations from prehistoric times, the Mahabharata, the Indus Valley and the time of Alexander the Great to regional kings, the British and then modern India, Bhuj with over 4000 years of living is a cultural melting pot and one of the best places to visit in Gujarat to soak up the culture.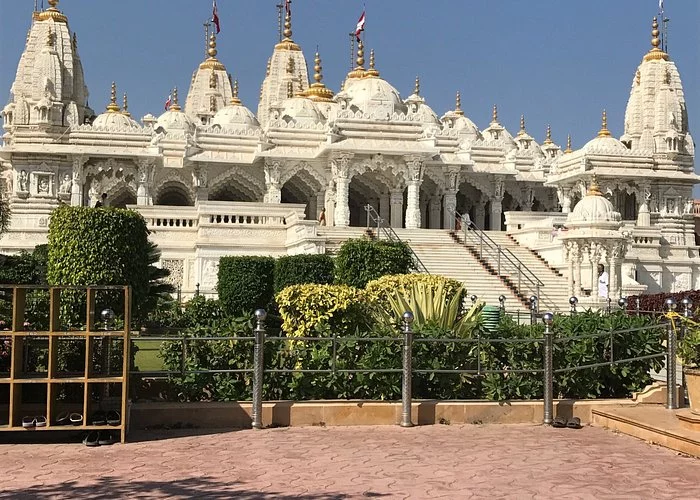 The main attractions of Bhuj are Aina Mahal (Palace of Mirrors), Parag Mahal, Kutch Museum with rare artifacts, Ramakunf Stepwell and Lake Hamirsar.
But Bhuj is more than just tourism, it's the cross-cultural influences, whether it's traditional handmade textiles, enameled jewelry and cultural excursions to surrounding villages, that are main international tourist attraction. One such cultural detour is Bhujodi. Located 7 km from Bhuj, Bhujodi is a village of weavers.
However, another trip to another village is Ajrakhpur, located 15 km from the city, a village of block printers. These trips give you the chance to meet artisans, watch demonstrations, and buy crafts.
Read More : 10 Best Places to Visit in Myanmar in 2022
.
9. Somnath : Places to visit in Gujarat
Somnath is the first and holiest of the 12 Jyotirlingas of Lord Shiva. According to legend, the Hindu moon god known as Soma built a temple entirely of gold to pay homage to the lord's glory and compassion and the temple was called Somnath Temple.
According to legend, the same temple was rebuilt by Ravana in silver, Krishna in wood and King Bhimdev in stone. Located on the Arabian coast, this temple was destroyed and then rebuilt many times and finally after India gained independence.
Every year, millions of devotees seek the blessings of Lord Shiva at Somnath, ranked among the best temples in India. when it comes to religious significance.
Read More : Top 10 Places to Visit in Darjeeling
.
10. Rann of Kutch : Places to visit in Gujarat
There is a saying that goes to Gujarat. "Kutch Nahin dekha to kuchh nahin dekha" means "you haven't seen anything if you haven't seen Kutch". Kutch is the best destination to visit in Gujarat, especially when Rann Mahotsav is in full swing.
Nestled between the Arabian Sea and the expanse of the Thar Desert, the Rann of Kutch is a fascinating symphony of salt and sand.
This white symphony reaches its climax on a full moon night. What makes Kutch even more bizarre is that during the monsoon, he was submerged in water.
For the remaining eight months of the year, a vast expanse of white salt makes it look like a white desert. During the nights of the full moon, cultural programs celebrating the rich culture and traditions of Gujarat are often held in Dhordo. A camel safari in the moonlight as the Rann of a Kutch is one of the must-dos.
When winter arrives, larger flamingos come to the Great Rann of Kutch from Siberia to breed, giving the white desert a pink hue.
Many other migratory birds such as Busturds, Blue Tails Bee Eater, Ceraneous Vulture and Demoiselle Cranes also come here in large numbers.
Rann of Kutch's large flamingos add an inviting pop of pink to the arid white landscape. Yet another thing to do in Kutch is to visit the Wild Ass Sanctuary. Located in Little Rann of Kutch, Wild Ass Sanctuary in Gujarat is the only place in the world where the endangered Indian wild ass can be found.
Read More : Top 10 Places to Visit In Tamil Nadu
.
FAQs Gujarat