Top 10 Theni Tourist Places to Visit
Theni is one of the most beautiful tourist places in Tamil Nadu. Located in the Western Ghats, this region is a wonderful holiday destination. Periyakulam, Uttampalayam and Andipatti are the best places to visit in this region.
Many of these places are known for their arts and crafts. There are several impressive waterfalls here, including Suruli and Kumbakkarai. Theni has many temples and is a popular pilgrimage site for Hindus.
.
Therefore, in this article, we will show you the 10 best Theni Tourist Places destinations.
The Veerapandi Gowmariamman Devi Temple
Meghamalai Hill
Theertha Thotti
Vaigai Dam
Kuchanur Sri Saneeswara Bhagavan Temple
Kailasanathar Temple Cave
Chinna Suruli Falls
Kurangani Hills
The Balasubramanya
Kumbakkarai Falls
.
The Veerapandi Gowmariamman Devi Temple Theni Tourist Places
Veerapandia Kattabomman, ruler of Pandya built Gowmariamman temple in 14th century. According to legend, King Veerapandya saw Goddess Gowmariamman and Kanneshwara Mudiyar in a dream and ordered this temple to be built. Gaumari is the god of this temple.
It is believed that this goddess grants all wishes of devotees. The largest temple festival is held here during April and May. The location of this temple is 8 km from Theni. Veerapandi Gowmariamman Devi Temple is located on the banks of Mullai River.
Many people in and around Tamil Nadu consider this place to be one of the best tourist attractions in Theni as Veerapandi Gowmariamman Devi helps devotees from any illness they may have.
Devotees claim that he was healed after receiving his blessings and mercy. Hence, it is one of the most famous places in Theni.
.
Meghamalai Hill Theni Tourist Places
Meghamalai Hill is about 70 km from Theni. Its location at 500 feet above sea level, the place is beautiful thanks to its diverse flora and fauna, making it one of the best tourist attractions in Theni. There are nearly 100 different species of birds living here. For bird watchers, this is a must visit.
The Government of Tamil Nadu has developed a bird sanctuary due to the variety of species found here. The Meghamalai Hills are home to a wide variety of mammals, reptiles and butterflies. Leopard, Wild Mang, Nilgiri Tahr, Hedgehog, Flying Squirrel, Spotted Deer and many other animals are found here.
The tea garden here is also a popular sightseeing spot. A cardamom garden is also located here. However, much of this area is surrounded by deep forest.
.
Theertha Thotti Theni Tourist Places
Tirtha Thotti is 19 km from Theni. The property is located 2 km from the popular town of Theni, Periyakulam. Temple of Lord Subramaniam is in this famous temple.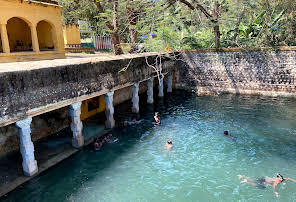 A forest of Neem trees surrounds this natural reservoir; hence Teerth Kotti is the name given to this reservoir for this reason. This reservoir is a natural spring that never runs dry. On the floor of this reservoir, there is also a pavilion with stairs there.
On the wall there are many carvings of many architectural works. Lord Murugan and Vinayaka are worshiped in this place. Overall, due to its famous pilgrimage sites, it is one of the best tourist attractions in Theni.
.
Vaigai Dam Theni Tourist Places
In Theni district near the village of Andipatti, the Vaigai dam is located on the Mullai River. The location of this dam is 25 km from Theni.
Visitors and their families near the dam love to have a picnic here. A children's park, zoo and garden are all located near the beautiful Vaigai Dam.
Vaigai Dam is the best place for sightseeing and entertainment, it's one of the best tourist places in Theni. On January 21, 1959, the dam was officially inaugurated.
The dam is 111 feet long and 71 feet wide. This dam provides drinking water for the whole city of Madurai. Near this dam, the Tamil Nadu government has built an agricultural research center, which conducts research on a variety of beans and grains.
.
Kuchanur Sri Saneeswara Bhagavan Temple Theni Tourist Places
One of the best tourist places in Theni famous for its spiritual history. Kuchanur Sri Saneeswara Bhagavan Temple located in Kuchanur is a famous pilgrimage site in India.
Lord Shani is said to reside there. Accordingly, the city is named after Lord Shani, Kuchanur. This temple is very old, and experts believe that
Lord Shani resides within its walls. This temple is also dedicated to Lord Hanuman and the idol Panchmukhi Ganesh is worshiped here.
Kuchanur is about 20 km from Theni and thousands of devotees from all over the country flock to this beautiful place and consider it one of the best spiritual tourist sites in Theni. Every year during the great festival season, devotees flock to this place to bless them.
.
Kailasanathar Temple Cave Theni Tourist Places
located near the famous Suruli waterfall is one of the best places to visit in Theni. At an altitude of 800 meters above sea level, this temple cave is located. According to the Tamil epic Silappadikaram, festivals were held in the cave of this temple in ancient times.
Many people also come here because of the natural spring located in the temple. People come here to wash away sins and heal diseases. Due to the spiritual stillness surrounding the place, the Kailasanathar Temple Cave is considered as one of the best tourist attractions in Theni.
On Saturday, the members of this holy place offer milk with reverence. The temple was built around 700 AD, expanded and restored in the 8th century onwards. Narasimhavarman II (Rajasimha), also known as Rajasimha Pallaveswaram, built the first structural temple in South India.
.
Chinna Suruli Falls Theni Tourist Places
Chinna Suruli Waterfall located among the green forests is a beautiful tourist destination in Theni. It flows all the way down to the hills of Meghamalai to create a sparkling, cold lake at the foot of the mountain.
Chinna Suruli Waterfall is located about 54 km from Theni's main center in the town of Kombaithozhu. It's a nice quiet place to visit in and around Theni. If you are visiting Tamil Nadu or places near Theni, this should be included in your local travel plans.
The shimmering silver clouds covering the entire waterfall provide a breathtaking sight. This waterfall has a stunning view of Theni, making it a must-see for photographers. Many weddings, photography and cinematic sessions have taken place here.
.
Kurangani Hills Theni Tourist Places
This is one of the best tourist attractions in Theni for hiking enthusiasts. Kurangani Hills is a great destination for hikers and nature lovers. The magnificent views of the tea plantations, along with deep woods and calming herbs, make this area ideal for a memorable trip.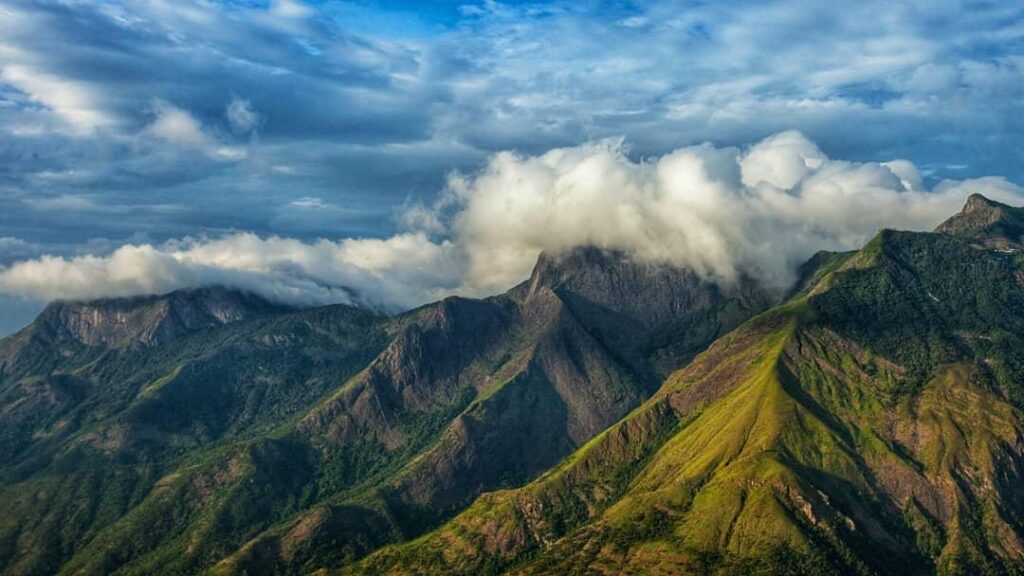 The Kurangani Hills Walk is a 12-kilometer hike through the central village of Kurangani Village to the upper station. Kurangani Hill is close to Kolukkumalai hill, a famous tea growing area in the world, located at an altitude of nearly 8,000 feet above sea level.
The natural beauty of the area has also captivated some filmmakers. The hills offer a diversity of flora and fauna as well as the frequently changing weather. Low clouds, cool atmosphere and strong winds make it one of the best tourist attractions in Theni.
.
The Balasubramanya Temple Theni Tourist Places
Balasubramanya temple at Periyakulam in Theni district is an important temple in Tamil Nadu. Lord Murugan, the main deity of the temple, has six heads and is escorted by his consort.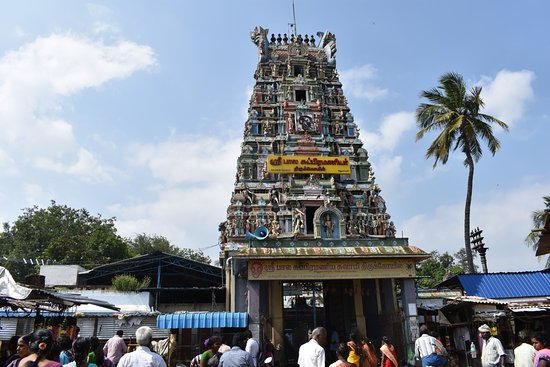 Balasubramanya Temple is the most visited temple in Tamil Nadu and one of the best Theni tourist places for spiritual experience. The is about 200 years old and is also considered by the people here as Kasi because the Brahma Theerta river flowing through here has cured many diseases for the people.
According to tradition, King Rajendra Chola accidentally strangled a pig while nursing its young. Lord Murugan was later seen by the mighty Emperor Chola feeding starving piglets. The king was touched by this sacred event and ordered the construction of this temple.
.
Kumbakkarai Falls Theni Tourist Places
Kumbakkarai Waterfall, located in the foothills of Kodaikanal, is one of the most beautiful falls in Theni district. This waterfall draws water from the hills of Kodaikanal and pours down the rocks in two stages.
People travel from all over the country to admire the natural and scenic beauty of this place in the foothills, and it has become one of the most popular tourist attractions in Theni.
The weather is cool and pleasant all year round, so you can see the waterfall at any time. However, the best time to visit the waterfall is during the summer and late winter months.
If you take a bus, getting to Kumbakkarai Falls from Kodaikanal Bus Terminal is easy and convenient. By road, the distance from Kodaikanal
Bus Stop to Kumbakkarai Falls is 76.8 km. Dolphin Cape, Kodaikanal Lake, Kurinji Andavar Temple, Pine Forest and Christ the King Church are some of the beautiful attractions around Kumbakkarai Falls.
Read More : Top 10 Hyderabad Travel Agency In 2023