Top 10 Places to Visit in Darjeeling
Darjeeling, located in West Bengal, India, is known for its tea industry. The city is located downstream of the Himalayas, also known as the Mahabalat Mountains.
The city was developed by the British in the mid-19th century and soon became known for its vast tea plantations, producing some of the best teas in the country.
The city was dominated by the Kingdom of Sikkim, but was conquered by Gurkhas and then by British troops. The city has an average altitude of 2050 meters and is classified in the Eastern Himalaya Zoo Geographic Zone.
Blessed with a rich cultural history and natural resources, the city is a popular tourist attraction with a pleasant climate all year round. Below is a list of the best places to visit when visiting Darjeeling.
.
List of Top 10 Places to Visit in Darjeeling
Darjeeling Himalayan Railway
Singalila National Park
Padmaja Naidu Himalayan Zoological Park
Tiger Hill
Observatory Hill
Batasia Loop
Happy Valley Tea Estate
Joey's Pub
Japanese Peace Pagoda
Neora Valley National Park
.

Darjeeling Himalayan Railway
Darjeeling's most famous attraction, the Darjeeling Himalayan Railway (DHR), is also known as the "Toy Train".
A 2-foot-wide narrow-gauge railroad that runs between Darjeeling and Jalpaiguri, built between 1879 and 1881.
In 1999, the Darjeeling Himalayan Railway was designated as a World Heritage Site by UNESCO, and DHR is the second railway in the world. Honor after the Austrian Semimering Railway.
Read More : 10 Best Places to Visit in Myanmar in 2022
.
Singalila National Park
At an altitude of about 2134 meters above sea level, Singalilla National Park is located in the highest part of West Bengal.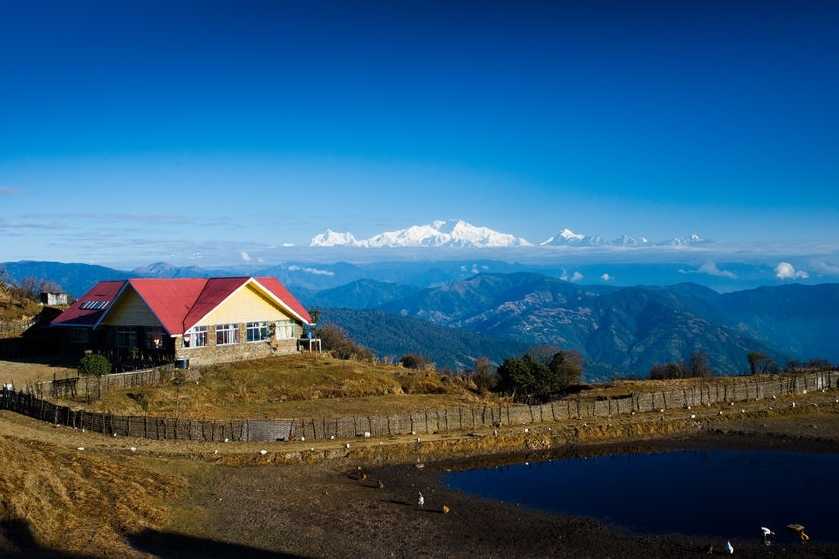 The park is known for its amazing mountain peaks and panoramic views of the small Himalayas.
The national park is famous as a hiking paradise inhabited by a wide variety of mountain plants, animals and birds. Wildlife includes rare and endangered species such as red pandas, black bears, leopards, tigers, clouded leopards, sero, leopard cats, barking deer, yellow-throated martens, wild boars, pangorins, and takins.
.
Padmaja Naidu Himalayan Zoological Park
Known for its famous red panda and snow leopard breeding program, the Padmajanai Du Himalaya Zoo covers an area of 67.56 hectares. Located at an average altitude of 2,134 meters above sea level, this zoo is India's largest alpine zoo.
Rare and endangered species in the zoo include snow leopards, red pandas, Himalayan salamanders, Himalayan wolves and the Himalayan mountains. Goat and Siberian tiger.
Read More : Top 10 Tourist Places to visit in Arunachal Pradesh
.
Tiger Hill
At sunrise, the summit of Mt. Kangchenjunga is illuminated and then the sun is visible at low altitudes. Everest (8848 m) is visible from Tiger Hill.
Kangchenjunga (8598 m) is a few miles closer to Everest, so it looks higher than Everest due to the curvature of the Earth. The straight-line distance from Tiger Hill to Everest is 107 miles (172 km).
On a clear day, the course song can be seen to the south, with the Tista, Mahananda, Barason and Mechi rivers winding south in the distance.
Tibetan Mount Chumaluri, 135 km away, can be seen above the Chola dynasty. The Senschel Wildlife Sanctuary is near Tiger Hill.
.
Observatory Hill
Located near Piazza Chowrarasta, Observatory Hill is Darjeeling's famous perspective and tourist attraction.
The place is famous for its magnificent views of Kanchenjunga and the ancient temple dedicated to Mahakala or Lord Shiva.
.
Batasia Loop
The Batasia Loop can be visited as the famous "toy train" passes through a loop that crosses several beautiful parks.
The place is famous for its Gawker War Memorial, where you can experience a 360-degree view of Darjeeling while riding a toy train.
The loop, which covers an area of 50,000 square feet, spirals through tunnels, well-kept parks, and hills in this 1,000-foot descent. Don't miss the local craft market nearby.
Read More : Best Time and Places to Visit in Shillong
.
Happy Valley Tea Estate
Happy Valley Tea Estate covers a vast area of 437 hectares and is located at an altitude of 2,100 meters above sea level. It is one of the main tourist attractions in Darjeeling.
This place is surrounded by one of the most breathtaking environments in Darjeeling, India. It also has one of the tallest tea factories in the world, founded by the British in 1854 and later passed on from Hoogley to Indian aristocrats.
.
Joey's Pub
If you want to relax after a busy day on a trip, Joey's Pub is for you. Built in 1948, this English-style pub is one of India's major tourist attractions.
If you're looking for a mid-priced drink or snack with light classic rock and blues in the background, be sure to visit the pub.
.
Japanese Peace Pagoda
The Peace Pagoda of Japan is one of 30 buildings in the world built by Japanese monk Nichidatsu Fujii from 1885 to 1985.
Located in the middle of some really fascinating places, the Buddhist shrine is set in a beautiful white building with golden carvings. The structure is 23 square meters wide and
28.5 meters high.
Read More : Best Places to Visit in Tripura
.
Neora Valley National Park
Covering a sprawling 88 square kilometers, Neora Valley National Park is one of the richest bioregions in the Northeast. Neora Valley National Park is famous for hosting one of the largest red panda populations in India.
The park was established in 1986 and is home to endangered and rare species of flora and fauna.
.
List of Top 5 hotels to stay in Darjeeling
Ramada Wyndham Darjeeling
Humro Himalayan Orchid
Summit Swiss Heritage Resort
Yashshree Mall Road Darjeeling
Summit Grace Boutique Hotel
.

Ramada Wyndham Darjeeling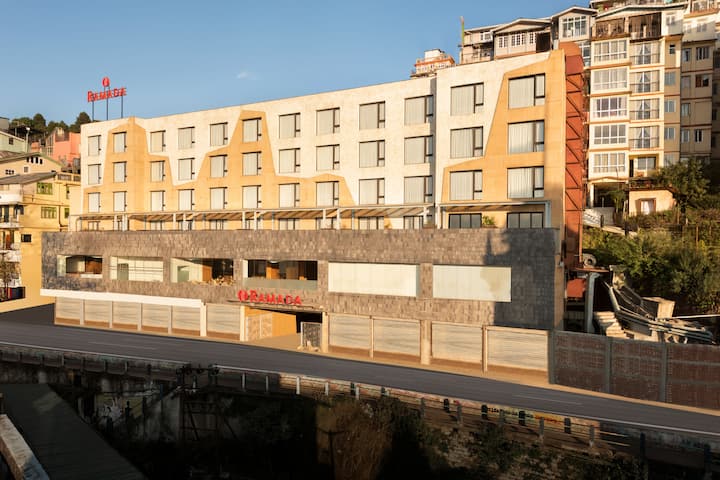 Located in Darjeeling, 11 km from Tiger Hill, Ramada by Wyndham Darjeeling offers rooms with mountain views and free Wi-Fi.
.
Humro Himalayan Orchid
Located in Darjeeling, 10 km from Tiger Hill, Humro Himalayan Orchid offers city views. Location, staff behavior, cleaning I think it's all.
Read More : Best Places to visit in October in India
.
Summit Swiss Heritage Resort
Located in Darjeeling, 11 km from Tiger Hill, Summit Swiss Heritage Resort & Spa offers a restaurant, free private parking, a shared lounge and accommodation with a garden.
The room is spacious, clean and comfortable. The room had a heater and a bed warmer. The staff is very good. Breakfast is also great.
.
Yashshree Mall Road Darjeeling
Yashshree Mall Road Darjeeling is located in Darjeeling, 12 km from Tiger Hill and 2.6 km from Japan's Peace Pagoda. Great views with very nice rooms.
.
Summit Grace Boutique Hotel
Summit Grace Boutique Hotel & Spa offers cozy rooms with panoramic views of the Singalira Mountains and a seating area with a TV and sofa.
Read More : Best season to make a Holiday in India
.
Darjeeling Tour Plan For 3 to 7 Days
| | | |
| --- | --- | --- |
| Darjeeling Packages | Day/Night | Cost/Expenses |
| Splendid North East – Flight Inclusive Deal Package | 4 Days/5 Nights | ₹36,000 |
| Tea Estates & Hills of Darjeeling, Kalimpong & Kurseong Package | 7 Days/6 Nights | ₹38,000 |
| North East Grandeur – Gangtok and Darjeeling Package | 5 Days/3 Nights | ₹30,000 |
.

Best Time to Visit Darjeeling
The best time to visit Darjeeling is between March and May, during the summer and October and November, and sometimes in the winter.
In both seasons, the temperatures are comfortable and cool, the skies are usually sunny, and you can enjoy spectacular views of the snow-capped Kangchenjunga summit. So, start planning your Darjeeling trip.
.
Darjeeling in Summer: From April to June
Summer temperatures are mild. Usually around 25 ° C, the best time to visit Darjeeling. The summer months from April to June are perfect for sightseeing in Darjeeling due to the best climate. There are many outdoor activities to explore.
Also, this is a season with a lot of tourists. Don't forget to watch the fasc inating sunrise of Tiger Hill and experience the beauty of India's highest mountain, Kangchenjunga. Barbotey Rock Garden is also a great place to visit Darjeeling in the summer.
The frigid cold will slowly disappear, and the weather will be mild and pleasant at the end of March. One of the best times to visit Darjeeling is summer. Many colorful magnolias and rhododendrons bloom throughout the season.
Taking a walk in the city of Darjeeling in the summer is an unforgettable experience. All you need at this time of the year is light wool and towels. It doesn't get chilly in the evening, so you can easily walk around.
.
Darjeeling in Monsoon: From July to September
From July, a strong monsoon is usually observed in Darjeeling. The monsoon is great, but visiting Darjeeling during these months may prove impractical due to the frequent occurrence of obstacles and landslides in every corner.
You will fall in love with the lush rainy environment and enjoy great photography. On the other hand, it will rain less until the end of September. You can definitely consider planning a Darjeeling trip during this time.
Darjeeling accommodations, such as hotels and resorts, are considered low season and offer favorable deals during the monsoon. This means that you can book a luxury hotel at an incredibly low price and enjoy your comfortable monsoon stay.
.
Darjeeling in Winter: From October to March
Darjeeling's winters are very cool, with temperatures ranging from 2 ° C to 7
° C. It usually starts in October and lasts until March, but it's a great time to visit Darjeeling and enjoy the pristine snow-covered beauty.
There aren't many tourists at this time of the year, so you can enjoy spectacular views of the snow-capped mountains and enjoy loneliness. Imagine spending a fulfilling time with your loved one in Darjeeling in the winter. It's very romantic.
If you plan to visit Darjeeling between December and February, don't forget to pack your woolen clothes. Another great attraction of Darjeeling is the variety of local ethnic dishes.
Due to the wide variety of cultures, you can taste authentic local food from multiple ethnic groups such as Tibet, Nepal and Bengal. World-famous fragrant Darjeeling tea, local homemade snacks like charpy made from yak milk, and local drinks craft beer like Tomba are very tasty and delicious.
.
Darjeeling FAQ's