Bhalukpong picnic spot can offer you a complete experience with wildlife and a range of activities that complement the natural beauty and surroundings of a place. The Kameng River flows through the surrounding forest making the city even more attractive. In Bhalukpong, you'll enjoy the utmost of hiking, climbing, camping and fishing. You can visit Pakhui Game Reserve to see birds as exotic as the place itself and more.
Bomdila Picnic Spot is a tourist destination in the north of Bhalukpong, where visitors cannot help but marvel at the magnificent monasteries. The atmosphere in and around the monasteries is very different, giving visitors a variety of experiences.
The Apple Orchids are another regional attraction that's easily seen in a variety of categories. Trekking gives adventurers a great opportunity to test their mettle. Other popular activities for tourists in Bhalukpong include fishing and rafting. The Aka tribe lived in Bhalukpong. The Aka tribe's annual Nyethidow festival is held in March.
Best Time to visit Bhalukpong Picnic Spot
The highest temperature recorded during the summer in Bhalukpong is 47 degrees Celsius, while the lowest temperature is 26 degrees Celsius. Now is the worst time of year to visit Bhalukpong. The weather is pleasant in March and April, and the Aka Tribe festival is held in March. So, from march is the best time to visit bhalukpong picnic spot.
Read More: Explore Panimur Picnic Spot Assam Perfect Place For You
Top 5 places to visit after Bhalukpong Picnic Spot
Pakhui Wildlife Sanctuary
Kaziranga National Park
Bhalukpong Fort
Tipi
Bomdila
1. Pakhui Wildlife Sanctuary
Covering an area of 862 km², Pakhui Wildlife Sanctuary is located in a beautiful environment. Three sides surrounded by rivers and set in the middle of the Himalayas, Pakhui Wildlife Sanctuary is a feast for your eyes.
The reserve is home to a wide variety of wildlife including tigers, wildcats, Himalayan black bears, elephants, leopards, barking deer, flying squirrels and many more. Some of the rare bird species found here include the great hornbill, jungle fowl, snake eagle and wood duck.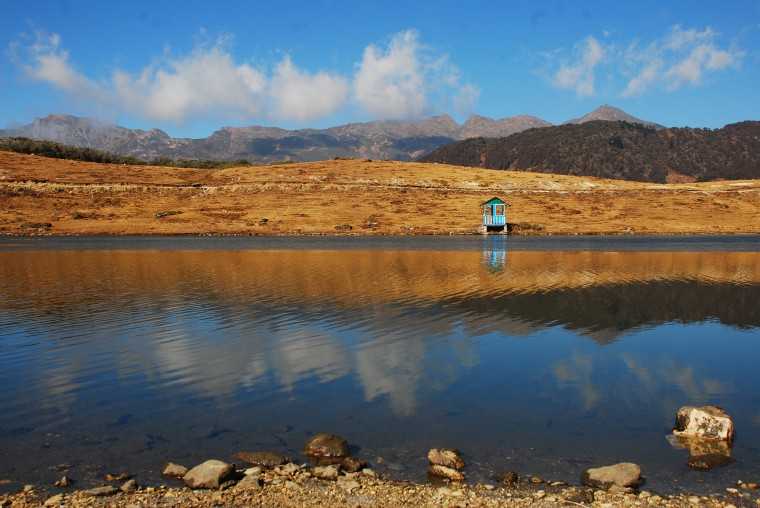 2. Kaziranga National Park
UNESCO has recognized Kaziranga National Park as a World Heritage Site. It is unique because it contains a horned rhinoceros, one of the last creatures of prehistoric times. The park is located in the southeast of Bhalukpong. As a famous reserve of India, Kaziranga National Park attracts visitors from all over the world.
Read More: Visit Bogamati Picnic Spot Perfect Place For You 2023
3. Bhalukpong Fort
Bhalukpong Fort was built around the 10th century and although now a ruin, it represents the ancient culture and glory of the place. It was built by King Bhaluka on the banks of the Bharali River. In addition to the remains of the fort, important relics of Bana, the grandson of King Bhaluka are also kept here.
4. Tipi
Tipi is located 5 km from Bhalukpong. It is one of the most popular tourist attractions thanks to the Orchidarium here. Tipi Orchidarium has more than 50,000 orchid varieties. With over 1000 species of orchids, the Orchid Conservatory located in the heart of the Orchidarium is a feast to the eyes.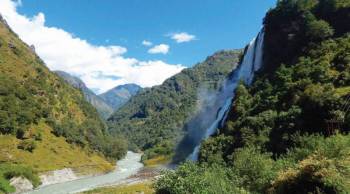 5. Bomdila
Bomdila is a great tourist destination, located in the north of Bhalukpong. Breathtaking scenery, beautiful orchids and monasteries are some of the main attractions of Bomdila. Located just 36 km from Bhalukpong, Bomdila is visited by all who visit Bhalukpong. Discover the essence of culture and the richness of nature in Bomdila.
Bhalukpong also offers elephant safaris. Explore Bhalukpong on elephant back and you will love the experience. Other important tourist activities in Bhalukpong include rafting and fishing. With so much to offer, you will find Bhalukpong arouse different emotions from you. Apart from Bhalukpong, there are many other tourist attractions in Arunachal Pradesh; please visit famous tourist attractions in Arunachal Pradesh for more.
Read More: Homestays in Srinagar to Stay While Visiting There.
Bhalukpong Picnic Spot FAQ's
Why is Bhalukpong famous?
Bhalukpong, 56 km from Tezpur in Assam is the entrance to Arunachal Pradesh. It is famous for its picnic areas and the archaeological ruins of King Bhaluka, a former ruler of the area.
Is Bhalukpong worth visiting?
Located along the Kameng River, it belongs to the district with the same name as the city. It is also one of the must-see tourist attractions of Arunachal Pradesh. In addition to being a scenic destination, Bhalukpong is steeped in history.
How to Visit Bhalukpong?
The nearest train station is Rangapara Railway Station, 46 km from Bhalukpong. Trains from different parts of the northeast are always available to arrive here. From Rangapara Railwa you one can either book buses or taxis for further travel.