Visit Diamond Harbour Picnic Spot Perfect Place For You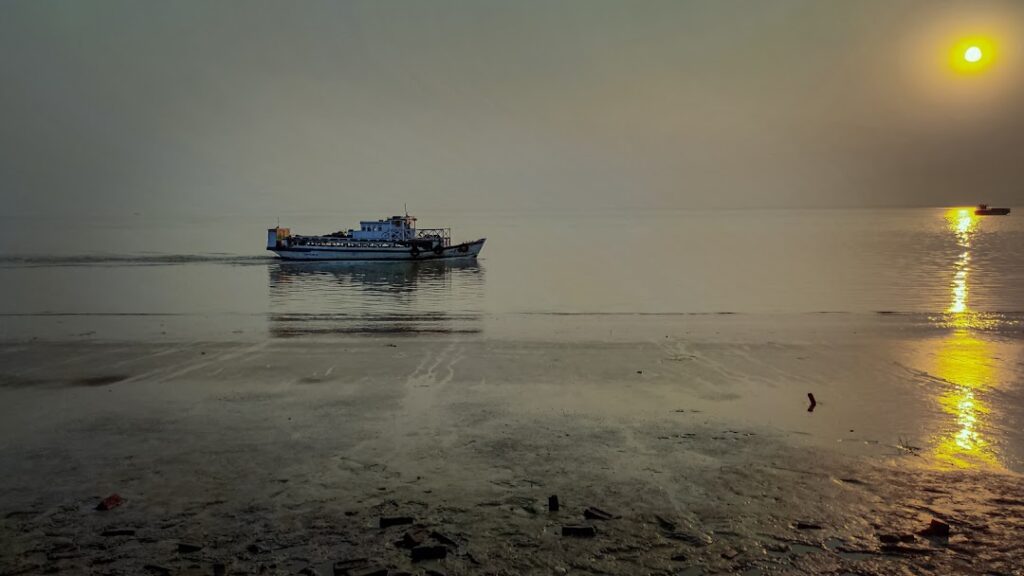 Due to its proximity to the city, Diamond Harbor Picnic Spot is a favorite picnic spot for Kolkata residents. This charming place was once called Hajipur, but the British gave it the name Diamond Harbor. The Hooghly River meets the Bay of Bengal at Diamond Harbor Picnic Spot, which also offers stunning views of the Hoogly River.
Before meeting the Bay of Bengal, the Rupnarayan River joins the Hoogly, curves southward and widens to form a large body of water. The Haldi River eventually joins it, and the area looks like a giant body of water from there.
Off the south coast of Hoogly, Diamond Harbor Picnic Spot is a popular weekend spot near Kolkata. The confluence of the sacred river with its destination can be seen here, where the Ganges turns south to merge into the Bay of Bengal.
This place is a favorite among locals and visitors alike due to its exceptional tranquility and natural beauty. You can take a leisurely stroll along the riverbank or sit back and reflect on life as you gaze at the captivating stretches of water before your eyes.
Diamond Harbor Picnic Spot is nothing more than a blank canvas where you can create your own adventure with its simple design and cozy atmosphere. Besides being a paradise for nature lovers, Diamond Harbor Picnic Spot is close to several fascinating sites. It is located near an old fortress that is related to the Portuguese pirates in the area where the fort once stood.
After docking, you can turn around to see the beautiful Bakkhali beach. On the other hand, the town of Joynagar is home to Kalidas Dutta's collection of ancient books, terracotta figurines and blackstone carvings of 11th and 12th-century deities, all well worth seeing.
Guests can also walk to the Sharisha Ramkrishna Mission Ashram and admire its vast grounds. If you're into boating, you can take the ferry across the Hooghly River or, for another good option, head to Sagar Island or Raichak Resort.
Site: Visit Jamduar Picnic Spot In 2023 Perfect Place For You
Diamond Harbour Picnic Spot
Diamond Harbor Picnic Spot is an ideal place that can serve as a great picnic spot where you can spend quality time with your family and children. The natural beauty of the area should be appreciated while you are here as it trumps everything else. The Hooghly waterfront is where you can spend the day or take one of the nearby river cruises.
You can take one of the nearby boats that will take you around the area, or you can take the ferry to Haldia. The same costs around 50 INR and is a fun adventure. Adventurers and history buffs are drawn to the ruins of a Portuguese fortress and a lighthouse on the other. It was once a stronghold of Portuguese pirates, and many urban legends surround its existence.
Tourists often ask for options such as staying in a hut or cabin, fishing, taking a short walk, cooking, exploring local crafts, or just sitting around doing nothing. While some of the basic services offered to visitors do not meet other international tourist standards, they promise a glimpse into real village and rural life in Bengal and 70% of India. Degrees, as well as adventure opportunities.
These homestay accommodations abound in the area. By purchasing local produce, art supplies, and hiring locals as guides or helpers, the tour supports the local economy. Most of our visitors quickly understand this idea.
Inns are planned and run by locals in estates, villages, or a customized version of the village built just for visitors. With activities such as birdwatching, short trails, fishing, rafting, clay modeling and others included in the stay, it is also part of ecotourism and ecotourism. Responsibility.
Read More: Best Chatakpur Homestay That You can Stay 2023
FAQ
What is special about Diamond Harbour?
Other Diamond Harbor attractions include the South Bengal Museum, the Naval Camp and the Swiss Gate. Another tourist attraction in the city is Kapil Muni Temple. Sage Kapila Muni is the patron saint of this temple, built by Swami Ramanad in 1437.
Diamond harbor picnic spot Attractions?
Due to the decreasing depth of the Ganges at the port of Kolkata, preventing the entry of large ships, river cruises on the Ganges have decreased in importance. Several smaller ships are currently headed to Kolkata and are being diverted to Port Haldia.
Best Time to Visit Diamond Harbour?
If you really want to enjoy the beauty of autumn, the best time to visit the port is from October to March. Plus, it's festive season, which acts like the icing on a cake. The weather was already ideal. Diwali, Laxmi Puja and Durga Puja celebrations all enhance the adventure of the trip. Also, the Kolkata Book Fair, a once-in-a-lifetime experience, can be visited if you go there in January.
How To Reach Diamond Harbour?
It takes two hours to travel from Kolkata to Diamond Port, 50 km away. From Howrah you can take the bus and get off at PG. From there, you can board another bus to Nurpur or Raichak. However, when boarding, you must ask the driver to drop you off at the stop from where you can catch a bus or go hiking directly to Diamond Port. You can also drive to Howrah and take a direct bus to Diamond Harbor from the Esplanade. To get to your destination, you can always hire a taxi.
Is Diamond Beach worth visiting?
One of the best places in Iceland to see killer whales and a great place to see Icelandic seals is at Diamond Beach. We also recommend crossing the street and visiting the near glacial lagoon.
Is Diamond Beach free?
There is a fee to enter the private Diamond Beach at the southernmost point of the island.
Does Diamond Harbour have a beach?
A cove on the Banks Peninsula, a 45-minute drive from Christchurch. Boaters and boaters enjoy the bay, home to the Stoddart Point Recreation Reserve.